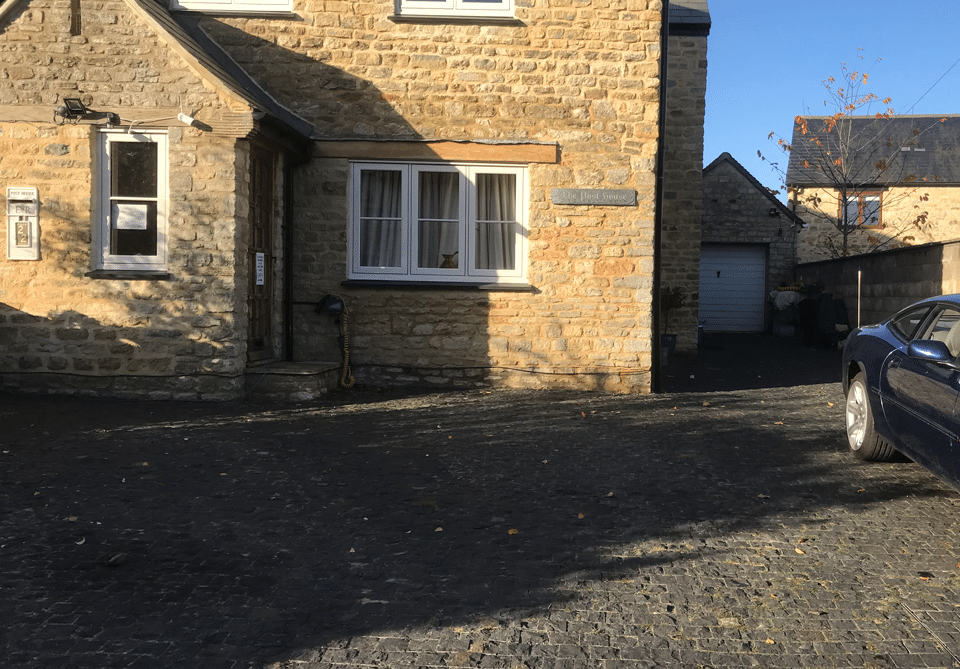 When Lyn and I were designing our home conversion we tried to ensure we covered everything, including what materials we wanted. To assist in our search, we visited exhibitions and trade shows, as well as suppliers.
It was quite easy to select the main fabric of the structure, as the local authority planning department insisted that we match the existing stone of the bungalow that we were converting to a two-storey home. We also wished to improve the roof covering from the concrete tiles to real slate and luckily the planning officer agreed that slates would be a great improvement.
Underfloor heating was an obvious improvement to include, but what would be the best floor to maximise the potential of the new heating.  We had previously decided that we wanted a wood floor in the lounge in a herringbone pattern and after checking out wood that was compatible with underfloor heating, our choices were either an engineered timber floor or strand bamboo. We opted for the strand bamboo.
That left the new entrance lobby, hallway, kitchen/diner, Orangery, and utility room plus toilet (accessible from the garden, without walking through the house), in all approximately eighty square meters.  This we realised was a sizeable amount and we would need to price this up very carefully.
Again, we had to consider compatibility with underfloor heating and something that would take advantage of the underfloor heat source by acting as a heat store.
Tiles were a possibility, although they were expensive and a bit thin to act as an adequate heat store, plus we wanted variation without visible repeats of pattern, whatever we chose had to be hard wearing and resilient, there would be a lot of foot traffic.  Marble was too expensive and probably too over the top to suit the property, however, limestone appeared to fit the bill totally, being less expensive than marble, but still a natural product with a variegated appearance.
Now the search began in earnest to find a supplier and installer.  Again, we found ourselves visiting exhibitions and trade shows, along with visits to the self-build centre in Swindon and multiple searches on the internet.  We learned a lot about limestone including the fact that the term "Dijon" did not specifically refer to limestone from France.  We discovered the exciting range of colours available and that fossils were abundant in the surface and what caused the streaks and lines clearly visible in the limestone, this all adds to the timeless quality of limestone and makes it perfect to match with both traditional and contemporary design features in (and outside) your home.
Our decision was to go for the 2cm thick, rather than the 1.5cm thick, we wanted resilience and an effective heat sink.  We looked carefully at the sizes and patterns available, such as Opus and Grand Opus, these, we decided, were not really appropriate for our room layouts, having doors and the staircase rising in the hall, along with the kitchen units and dining table in the kitchen diner.  The only room that could display the design effectively was the Orangery, but did we really want to change the floor layout at the threshold between the kitchen/diner and the Orangery? Eventually we settled on the simple pattern of two mixed sizes of limestone tiles 80x40cm and 60x40cm laid randomly in lines.  The surface finish we agreed on was the tumbled finish that adds age to the tile edges and is safer than a polished or honed surface when wet.
The variation in quality and price we found from the UK suppliers, along with the variations in costs of laying were astounding and so naturally we started looking abroad, thinking Dijon must come from France!  Well yes it does, but not only there, we found sources of Dijon limestone all around the world.
Limestone has been used throughout history to construct buildings that have withstood the test of time and many are still admired today, amongst these are, of course, the Pyramids in Egypt.
Our searches finally resulted in our contacting Egyptian Limestone Tiles  after viewing their website https://egyptianlimestonetiles.com Their range of natural stone products is very impressive, as is their website.  Our contact there was most helpful and very quickly agreed to send us samples to see both the colour and the quality of the product.
ELT could not have been more helpful and prepared a quotation for us, with terms that we found very reasonable for a personal import. The project we were undertaking, for many reasons, took longer than we had anticipated and because of this our placing an order was delayed for quite a while. I do not consider that it would be correct to state the price difference between sourcing from ELT in Egypt and purchasing in the UK, as every order is certain to have individual variations.  The difference was sufficient to make us investigate further what other costs would be involved.
Whilst we were making our selection of the limestone tiles for the house, we noticed that ELT also offered limestone tiles of 3cm thickness for outside use, we enquired if they could cut a circle with an internal circular opening, rather like a doughnut in shape.  As ever, ELT were most obliging and gave a very reasonable price for our proposed patio centre piece; a limestone firepit constructed in segments.  The patio surrounding the firepit was also in limestone to match the internal tiles a mix of 40x80cm and 40x60cm tiles 3cm thick.
The project required a major change to the drive and approach to our property, we were installing a subterranean LPG tank, in addition new supply pipes and cables and sewer pipes had to be laid in excavated trenches.  It was necessary to remove the whole of the surface of the drive and parking area and relocate the entrance to accommodate the gas tank.
ELT we discovered also supplied Basalt blocks or paviours, much to our delight these also had distinct price advantages over UK suppliers, even when taking into consideration any other costs. The final calculations showed that the costs were less than half of the UK suppliers quotes for the Basalt alone.
We kept ELT advised of the delays to our project and they were extremely understanding and never put us under any pressure to complete our order, we had an occasional email from them enquiring how our project was proceeding and to advise of potential delays due to religious holiday etc.
Finally, progress on the project had reached the stage when we could place our order for the limestone and the Basalt and we contacted ELT to advise them of our intention to send our deposit and complete our order.  ELT handled our order with efficiency and sent us the proforma invoice.
We have contacts in Egypt and asked them to make enquiries of ELT to establish that they were a professional company, the reports came back all with positive remarks.  Our contact in ELT was aware that we had requested our contacts to check his company out and was quite understanding.
The date for shipping our order from Egypt arrived and a request was made for us to make the final payment to ELT, our price from them included delivery to our project site. Naturally, we had to pay VAT to the UK customs, before the stone was released from the UK dock.
We were kept fully informed regarding the delivery date and the transport company asked if we needed transport with a fork truck to unload the stone.  The total weight of the delivery was over 30 tonnes, so our response was in the affirmative with gratitude.
The lorry arrived on the scheduled day and time, we have a school nearby and did not want to be unloading during school arrival or departure time.
Even though we were aware of the total weight, it still came as a surprise to realise that the whole lorry load (a forty-foot artic Lorry) was for us, over 33 large crates.
The packaging and the crates were first class, the limestone and the basalt had liners of expanded polystyrene to cushion them during the transit and they arrived in top class condition.
The limestone tiles have now been laid and we have moved back into our home, the Basalt drive and forecourt have been installed and provide a fabulous external hardwearing feature.
Should you be considering purchasing natural stone products, but are hesitant in contacting a company abroad, we would endorse without hesitation ELT  in Cairo. We would be happy to assist you in your dealings with this company, we know from our own personal experience how professional and helpful this company is.
Start by visiting their website at https://egyptianlimestonetiles.com/